VTN is proud to introduce STAR Telehealth Training
Southside Telehealth Training Academy and Resource Center (STAR) in Martinsville, VA, offers statewide training for health care providers to become certified as telehealth presenters or coordinators.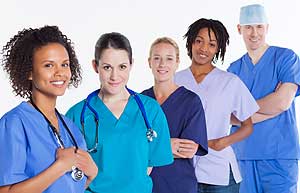 STAR training provides an overview of the videoconferencing technology and medical peripherals used in the clinical setting, remote patient monitoring equipment in the home setting, and the responsibilities of telehealth staff.
Graduates of the clinical track will acquire the skills to correctly present patients during virtual encounters with physicians and other specialists. Telehealth coordination track graduates will be able to operate telehealth equipment and manage components of a telehealth program.
Students in health care programs are eligible to register for STAR. Education is delivered through convenient, self-paced on-line training modules, combined with hands-on experience using telemedicine and remote patient monitoring technologies.
STAR's goal is to reinforce best practices in telehealth to achieve improvements in healthcare delivery and outcomes for rural communities and medically underserved populations.
STAR courses are offered FREE to the first 250 registrants working or living in Virginia – a $225 value

.
Hands-on laboratories are scheduled for February 22nd in Martinsville, and on April 1st and 2nd in Fredericksburg (after MATRC Summit). On-site labs for groups of 25 may be arranged by contacting the STAR Program Coordinator.